Finding suitable ways for symbiosis with the local community is one of the major business themes for ONOMICHI. It is with that objective that we have deployed, among other things, clean-up activities in the company's surroundings, opening our launching ceremonies to the public, participation in local events, and hands-on workplace experience for high school and university students. We also believe that spreading the name of ONOMICHI across the globe through the excellence of our shipbuilding bearing the name of ONOMICHI, is of course, a definite contribution to our locality – even more so than anything else.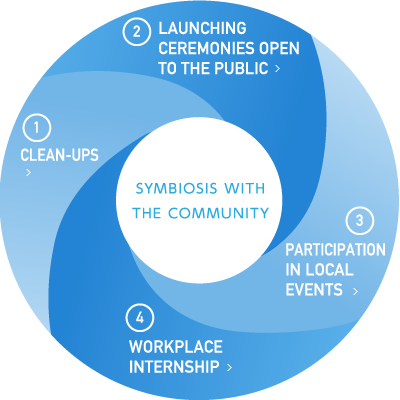 1. CLEAN-UPS
We actively carry out clean-ups in our environs, as a local contribution and in order to raise awareness for the environment on the part of all our employees as individuals.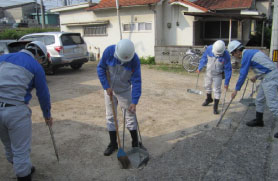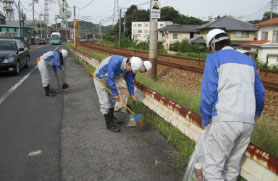 2. LAUNCHING CEREMONIES OPEN TO THE PUBLIC
The launching ceremonies are open to the general public.
Every ceremony is attended not only by local residents, but also by visitors from outside the prefecture. All attendees find the sight of the massive ship descending into the sea highly impressive.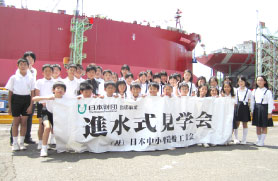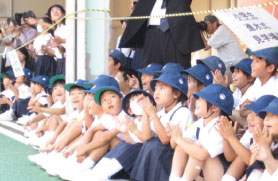 3. PARTICIPATION IN LOCAL EVENTS
Every year we help to enliven Onomichi by taking part in local events including the Onomichi Harbor Festival and the National Fancy Dress Contest.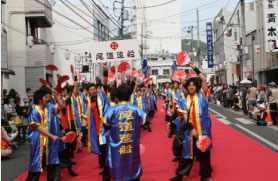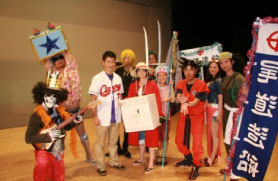 4. WORKPLACE INTERNSHIP
We take in local high school and college students for a workplace internship that will assist them in their school education.