We repair various kinds of merchant vessels and even special purpose vessels.
Our technology has developed over many years, such as maintenance work by opening the medium-speed engine requiring a high technique, has earned an absolute reliability from the ship owners of domestic ferryboats, passenger boats, and RO-RO ships.
For support in drawing works and engineering installation work for ballast water treatment system, please contact the following.
Colombo Dockyard

Colombo Dockyard has been a member of the ONOMICHI Group since 1993. The company is located Colombo, Sri Lanka, an important Asian shipping center that plays the role of a hub port linking the sea-lanes of Western Asia, the Middle East, the Far East, Africa, Australia and elsewhere.
This location means that over many years we have carried out repair of ships of all different kinds that sail to and from along those sea-lanes, and possess outstanding technology both for repair work in the dock and running repair at sea.
The company's Repair Engineering Segment is the mainstay of our operations. It has four dry docks and over 1,000 meters of dedicated wharves, and puts these facilities to maximal use in carrying out repairs on some 160 vessels of various different kinds in the course of a year, including trading ships, offshore structures and special vessels.
Further, the company also puts its energies in to new ship construction, offshore structure construction and heavy engineering. Its New Ship Construction Segment specializes in building Tugs, Workboats, Passenger Ships, Landing Craft, Naval and Coast Guard Vessels, Vessels for Oil & Gas Exploration such as Anchor Handling Tugs, OSVs, PSVs, MPSVs etc.

Drydock
Overall length (m)
Breadth (m)
Depth (m)
Capacity (DWT)
Cranes (t)
No.1
213.00
26.00
9.70
30,000
One 160-tons
One 50-tons
One 30-tons
One 25-tons
One 20-tons
No. 2 (new ship construction)
107.00
18.50
6.70
9,000
One 160-tons
One 50-tons
One 30-tons
One 25-tons
One 20-tons
No.3
122.00
16.00
5.50
8,000
One 10-tons
One 6-tons
No.4
263.00
44.00
8.90
125,000
One 50-tons
One 20-tons
One 18-tons

For inquiries, contact:

Colombo Dockyard PLC
P.O.Box.906, Port of Colombo, Colombo 15, Sri Lanka
TEL: +94-112-429000
FAX : +94-112-446441, +94-112-471335  E-MAIL :coldock@cdl.lk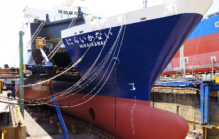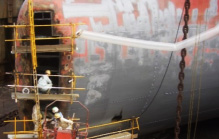 For inquiries, contact:

Ship Repair Sales Sec., Ship Sales Dept., Onomichi Dockyard Co., Ltd.
1005, Sanba-cho, Onomichi, Hiroshima, 722-8602
+81-848-20-2966 FAX: +81-848-20-2969
E-MAIL : ship.repair.biz@onozo.co.jp